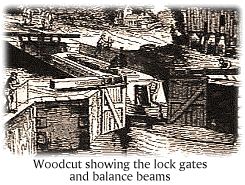 While the surveyors laying out the canal right-of-way tried to find the most level land possible, Fort Wayne was approximately 90 feet higher than Lagro. (In fact, Fort Wayne was the highest elevation along the Canal, and thus came to be known as "The Summit City", a nickname that endures to this day. ) In order to encompass such a change in elevation, locks were used in order to provide a means of raising and lowering the boats between sections of virtually flat canal.
In essence, a lock is a walled section within the canal, with water-tight doors at each end. With a boat between the tightly closed doors, the water level within the lock could be raise or lowered to allow the boat to move up or down stream.
The doors at each end of the lock were massive wooden structures, with large balance beams across the top to both balance the weight of the doors and to provide the leverage necessary to allow the heavy doors to be opened and closed by one man. Within each door was a smaller door known as a sluice, or wicket. The wicket could be opened or closed, allowing water to enter or escape as required.



Due to the varying availability of materials encountered along the path of the canal, the locks constructed on the Wabash and Erie Canal conformed to four different specifications:

Cut stone locks
The most durable and most expensive type of lock construction, the chamber was built of stone blocks cut and fitted accurately enough to be water- tight. Due to the lack of suitable stone, only 14 of the 73 W&E locks in Indiana were built of stone.
Composite locks
Composite, or "combined" locks were used where building stone of inferior quality could be obtained. Rough stone walls were lined with planks to make a water tight chamber.



Timber Crib Locks
This was the most common type of lock construction on the Wabash & Erie, accounting for over half of the Indiana locks. Huge boxes, or "cribs" built log cabin style were filled with stones and gravel to form the sides of the lock chamber and to provide the necessary stability



Timber frame locks
This was the least expensive (and least durable) of the four types of Wabash & Erie canal locks. The sides of the chamber were braced with heavy timber frames. These locks required frequent replacement of decayed timbers.
Profile of the Wabash & Erie Canal. Thomas Meek, 1984


| | | | | |
| --- | --- | --- | --- | --- |
| No | Lift | Location | Construction | Name |
| 4 | 10 ft. | Roanoke | Timber Frame | Dickey |
| 5 | 9 ft. | Huntington | Timber Crib | Unknown |
| 6 | 8 ft. | Huntington | Timber Crib | Burke |
| 7 | 8 ft. | Huntington | Composite | Davies |
| 8 | 9 ft. | Huntington | Timber Crib | Sunderman |
| 9 | 9 ft. | Huntington | Timber Crib | Forks |
| 10 | 9 ft. | Huntington | Timber Crib | Unknown |
| 11 | 6 ft. | Silver Creek | Timber Crib | Chesboro |
| 12 | 8 ft. | East of Lagro | Cut Stone | Jim McDonald |
| 13 | 7 ft. | East of Lagro | Cut Stone | Curly Hayes |
| 14 | 6 ft. | Lagro | Cut Stone | Jim Kerr |
| 15 | 6 ft. | Lagro | Cut Stone | Jim Ditton |